If there is one name that has been inexorably connected with providing information about traveling to Greece, it's Matt Barrett. A living legend in the Greek travel industry, Matt has been assisting travelers for decades, with his unique insights on Greece and its idiosyncrasies presented through the scope of a man who can toe the line between tourist and local without skipping a beat. What follows is an excerpt of Matt's guide to Greece for Seniors.
Greece for Seniors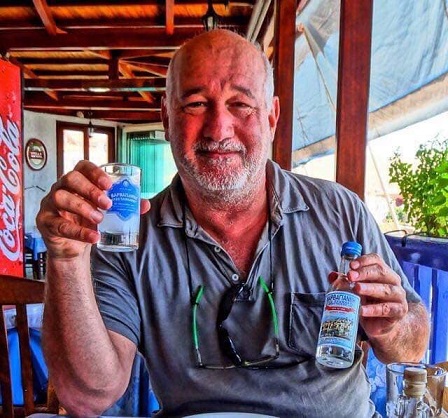 But what about the tourist who has reached the age when he has plenty of money and time to do the things he has always wanted to do but doubts he has the energy and the stamina to actually do it? Don't worry. Greece is easy. Even Athens if you just follow my advice.
So the other day I was going to send my daughter a text message about how I am getting old. Not to be mean or scare her or anything. It was going to be a funny message and I was going to send her some photos of old people... very old people, to make my point because she does not really think of me as old. Maybe she does, I don't know. Anyway, so I googled "Greece, old men" and then I clicked on images. There among photos of old Cretan shepherds in traditional dress, Greek fishermen with large white mustaches and weather-beaten faces, and little old men in cafeneons playing backgammon, was this photo of me on the right. Yeah I know. Funny, right? OK. I am old. And there are benefits to being old. I can sing 'When I'm 64' and mean it. I get a 5% discount at my local supermarket on Thursdays. I can join AARP if I ever open one of their letters that seem to arrive daily and figure out exactly what it is and why I should join. Is there anything else? People call me sir and hold the door open for me which is a nice gesture but not really necessary, nor is offering me a seat on the bus, though I'll take it. Not because I am too weak to stand but it is easier to text with two hands than with one hand hanging on to the strap. (I guess texting with 2 hands makes me old. "Here pops. Take my seat so you can text easier".)
It also means I can advise seniors or whatever we old people call ourselves these days, on traveling in Greece, and speak from experience as an authentic old person. So for people who think their age and diminishing physical skills may make Greek a hardship there is good news. If I can do it so can you. And even if you are way past me on the old age chart you can still have a wonderful time in Greece that should not over-tax your current or future abilities.
Greece and Old People
Greece is full of old people. I think half the country is old and I read somewhere that Greece has the oldest population in Europe and in fact that in the future there won't be enough young people working to pay into social security. Besides sounding ominously familiar to what will also happen in the USA it also means that everywhere you go you will see old people, older than you even, going about their daily activities. And in Greece old people leave their houses and apartments and walk around the neighborhood, villages, and even go to the beach regularly. Go to any island or the coast near Athens early in the morning or late in the afternoon when the sun is not beating down and you will see all sorts of old people bobbing around in the sea, having conversations as if they ran into each other at the country club. Old Greeks will go to the beach every day they are able in the summer. I know a woman in Kypseli in her eighties who drives through Athens traffic daily to go swimming in Vouliagmeni, a good 45 minute drive each way. The cafeneons, the coffee shops, where people drink coffee, ouzo, brandy and play cards and backgammon and talk all day are full of old people and aspiring old people. Restaurants and tavernas too, look around and there are old people. Any large table with a family will have a yaya or papoo whether they are the life of the party or completely oblivious to their surroundings.
The Islands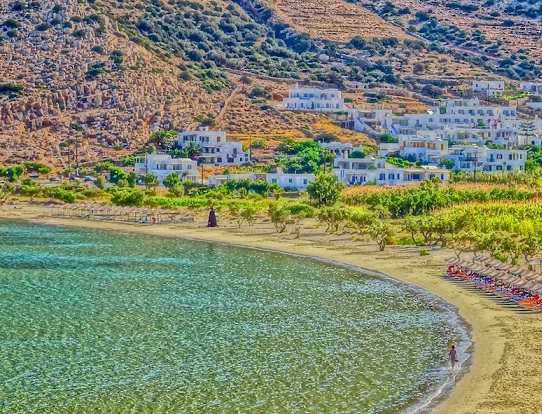 And once you get to the islands life gets a whole lot easier, especially if you are staying on the sea within walking distance of the beach, the port, restaurants, cafes and shops, in hotels with one floor and few if any steps. I highly recommend Kamares, Sifnos (in photo on the right) for this exact reason and Sifnos can be easily combined with Serifos and Milos which are similar as well as Santorini which is not but if you are a senior citizen Santorini may be one of those places you decided you must see before you die. Anyway there are ways of visiting Santorini that are not too difficult to those of us with weak knees and a fear of steps and crowds which are addressed in Fantasy's Senior Summer Special below.
A few months before I discovered I had become the poster boy for Greek old people I spoke with some of the travel agencies on my website. I wanted to create a few customized itineraries of popular destinations suitable for old people and those with physical limitations. That meant well located hotels in Athens and the islands, with few if any steps, transportation between ports, hotels and airports, as well as tours and someone to assist them in places that may be difficult. George at Fantasy Travel actually came up with a couple itineraries for seniors and promised more if these were popular. When I explained to him that the baby-boomers were reaching the age of retirement and pretty soon it will seem like everyone coming from America is old he became even more enthused so I am hoping that these are just the beginning.
Fantasy Travel's Programs for Seniors
Seniors Summer Special: This package is ideal for senior travelers and proves that Greece is a destination for all ages. It combines the classical beauty of Athens, the unspoiled island aesthetics of Sifnos and the extraterrestrial magic of the world-famous Santorini, sprinkled with comfortable services and exquisite accommodation. Click Here for more Information
Seniors Winter Special: Visit ancient monuments including the Acropolis and the Acropolis Museum. Continue your journey with a taste of the Greek islanders' everyday life, by joining a one day cruise to three traditional and beautiful Greek islands, Hydra, Poros and Aegina. Stroll down their beautiful alleys, smell the saltiness of the sea that encircles them and taste local delicacies. Finish your discovery with a mainland excursion and visit sites of great importance to the world heritage, such as Mycenae and Epidaurus, Delphi and Meteora. Click Here for more Information