When it comes to Greek islands, there are undoubtedly some overwhelmingly popular choices that hog the spotlight, often overshadowing the rest. If that's what you are looking for, then you are in the wrong place! This blog series is dedicated to introducing you to lesser known, but immensely beautiful Greek islands, that for one reason or another, warranty a visit. In the newest edition of our hidden gems series we shed some light on an overlooked corner of the Aegean Sea, which happens to be the home of some stunning locations with rich history.
Samos
...where science meets philosophy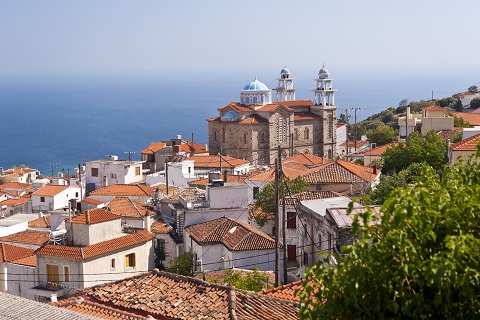 On the northeastern part of the Aegean and just a stone's throw away from Turkey, Samos is a source of pride for any Greek, for it has been a site of scientific progress since antiquity. Due to its wine production, it became a powerful city-state in Ancient Greece and that gave Samians the comfort to invest in research. The Eupalinian aqueduct, a marvel of ancient engineering, still stands today as a UNESCO World Heritage Site to remind everyone of the significant role the island played in its heyday.
Alas, the biggest contribution of the island has to be the intellectual trio that sprung from its loins. Pythagoras of Samos was a great mathematician, whose heritage lives on through one of the most well-known theorems today. Another great Samian mind was Aristarchus. The Greek astronomer is credited as the first known individual to propose that the Earth revolves around the sun, thus searing his name in the pantheon of cosmology. Last but certainly not least, comes the philosopher Epicurus. A brilliant empiricist before empiricism was even considered a school of thought, Epicurus believed that the senses were the only reliable source of knowledge about the world and that the purpose of philosophy was to attain a happy, tranquil life.
A visit to the island today, will not be limited to soaking up the culture, but also include numerous opportunities for hiking as Samos' natural beauty is augmented by mountainous regions that are not usually found in islands. Surrounded by more than a dozen crystal clear beaches laid with fine sand, Samos possesses a rare combination of natural elements that you shouldn't miss out on.
Ikaria
...the stairway to heaven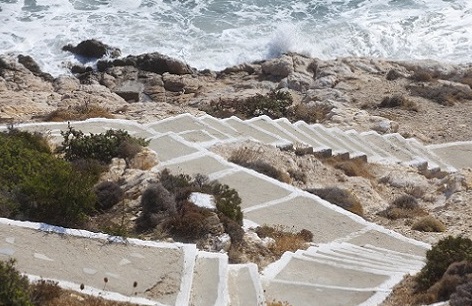 Just a few miles southwest of Samos, lies Ikaria, an alternative vacation spot that mainly attracts locals. Its name is derived by Icarus, who according to legend, fell on the sea nearby after his famous flight. The island's history however extends even further, back to around 7000BC when it was populated by the Pelasgians. After being colonized by Greeks, Ikaria became part of the sea empire of Polycrates and remained predominantly under Greek rule until the early 16th century. Since then, its tumultuous history included Hospitalier influence, Ottoman rule, WWII occupation, acting as an exile destination for communists during the Civil War, as well as a brief 5 month period in the early 20th century when it declared itself as an independent state!
In modern times, Ikaria has been heavily relying in domestic tourism, with locals choosing the island due its secluded blue-green beaches and laid back rhythm. Time moves slowly in Ikaria and rumor has it that the word 'stress' is unknown to locals. Perhaps that is the secret behind the island's prestigious honor of being one of the five 'blue zones' in the world. In such places the population regularly lives to an advanced age and in Icaria's case, one in three make it well into their 90s, due to a combination of healthy diet, lifestyle, and genetics. But perhaps just a visit there is enough to bless you with a long a happy life…who knows?
Lesbos
a mosaic of culture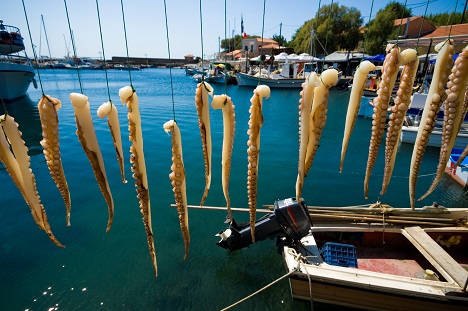 Lesbos is a historic island on the Northeastern Aegean, filled with castles, monasteries, catacombs, basilicas and even a mosque, all of which are pieces that complete the mosaic of its rich past. The most important of the island's numerous attractions are the Castles of Molyvos and Mytilene - with the later mentioned as early as in Homer's epic poems, the Petrified Forest which is a testament to nature's wondrous power and on the tentative list to become a UNESCO world heritage, the Monastery of Saint Raphael which has been a famous site of pilgrimage for generations and the Roman Aqueduct whose presence alone betrays the geopolitical importance the island of Sappho has enjoyed throughout the centuries. All of the above create an extraordinary number of sightseeing opportunities.
Although tourism infrastructure has vastly developed, Lesbos has managed to retain a traditional vibe. Nowadays, the island is home to numerous fishing villages, as well as beaches that look like pebbled bays. Some of them are organized but most are completely secluded, even in high season, which renders the island an ideal destination for travelers searching for tranquility. If your interests are of a culinary nature, then fear not! With an abundance of fish delicacies in its repertoire and numerous olive-presses and ouzo distilleries spread around the island, Lesbos caters to every taste…literally!