I have shopped several times there for different presents for my friends abroad – the most successful souvenir was the shot glasses with ancient motives. I also love the leather traditional greek sandals that they sell here – irreplaceable on hot summer days in Athens. I hear that Barbara Streizand, Jackie O and other celebrities have shopped in one of the shoe-shops in this area on the corner to Psiri.
You can find about anything here from traditional clothes to dishes, greek food products, wine and cosmetics based on natural products like olive oil to traditional greek musical instruments and jewelry
If you are interested in Antiques you wouldn't have to go far from Plaka. The flea Market on Monastiraki named after Monastiraki Square where the subway station is located. Here you can find almost anything from secondhand guitars and top-notch Antiques to Russian vodka or inexpensive souvenirs, old furniture, Greek music, glass and silver and Athens maps. This Market is also opened on Sundays – when all shops are closed. I'd call it a flea market and an open-air museum in one. The tip for you here - always bargain!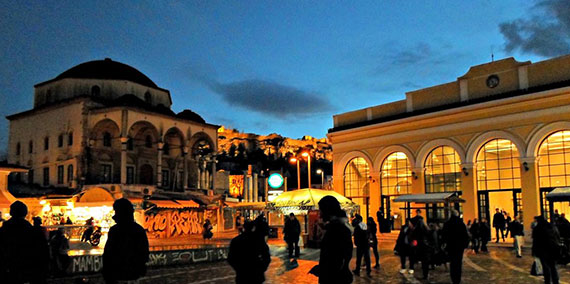 The downtown area (around Ermou Street) hosts a few large shopping centers but mainly keeps visitors busy with its quaint shops in the tourist areas and boutiques. If chic stuff is what you're after then head to Kolonaki, the area known for shops selling branded goods, trendy malls, cool coffee shops, etc. They say that Tsakalof Street in Kolonaki is one of the most expensive shopping streets in the world.
Finally you can visit one of the Athens outlets, like Attica or Golden Hall or Mall, which offer known brands. Another outlet is located close to the airport – McArthur Glen, so you have several hours to the connection flight or some time to wait before departure – you can spend it here.
Keep in mind that working hours for shops are not standard, so Shops are opened till 9pm except on Mondays and Wednesdays when they close at around 2:30pm.
And if you travel to Greece during winter time don't forget about winter sales, when you can shop with 50-70% discounts!